The sink is one of the focal points of every kitchen, which can beautifully complement the overall appearance and functionality of this space. You'll want one that matches the rest of your shiny new kitchen in style, quality, and practicality.
Check out our useful guide to discover how to find a kitchen sink that meets your demands. You can also turn to one of OKC's leading kitchen remodeling services for advice on your kitchen design. With qualified remodelers by your side, this and other facets of your upcoming project will blend seamlessly to create a stunning end result.
Which type of kitchen sink is best?
Depending on the style you're going for and the functional features you need, you'll be able to choose from a wide array of sink models, materials, and sizes. Read on for a rundown of the kinds of sinks that you can most frequently see in residential kitchens.
Drop in
Drop-in models are placed in a hole that's cut out in the surface of the counter. They have a visible rim that separates the sink from the rest of the countertop. Their easy installation and affordable price makes them the most popular type of sink out there.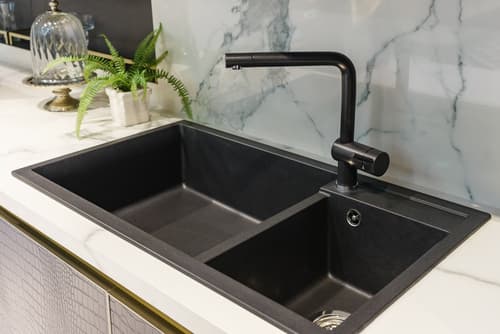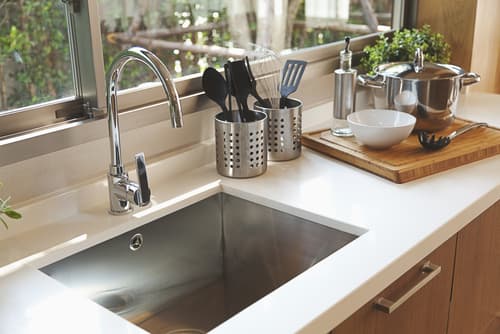 Undermount
These sinks attach to the bottom side of the countertop, which offers a seamless, modern look. The absence of a rim makes cleaning easier. However, these models are typically more expensive than drop-in ones.
Apron
Apron sinks have a front side that cascades over the edge of the counter creating a stylish look. Though pricey, they are an ideal addiction to a farmhouse kitchen design. On the downside, they don't have the same barrier as others to stop water from dripping to the floor while you're washing your food or utensils.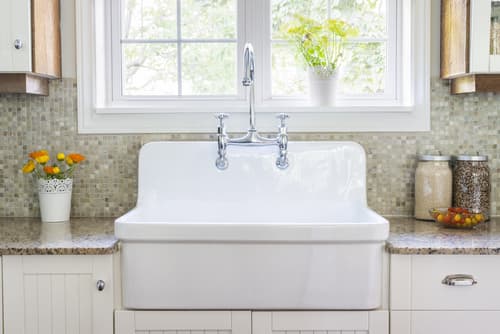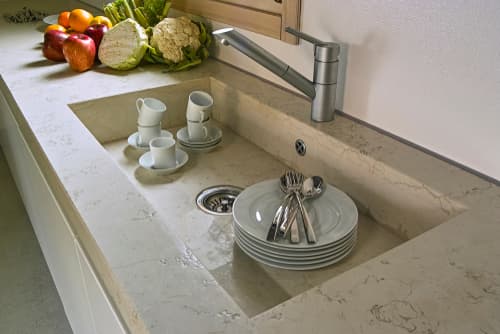 Integrated
For the ultimate sleek look, choose an integrated sink that fully blends in with your countertop. These models are manufactured from the countertop material and joined during the production process. They're fairly costly and pretty rare. If damaged, a replacement is impossible without replacing the whole countertop surface.
Single vs. double basin
All the previously mentioned types may fall under the category of either single or double basin sinks. Single basins are a better fit for smaller kitchens while double basins are larger and more versatile. However, a sufficiently roomy single basin can fit large kitchenware, like baking trays, while a double basin usually can't.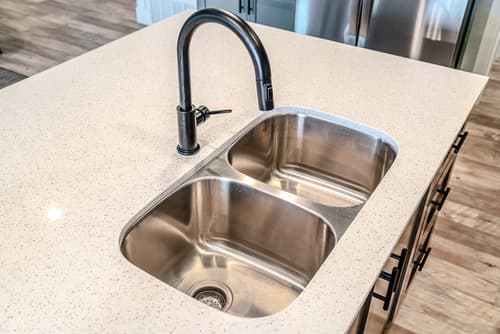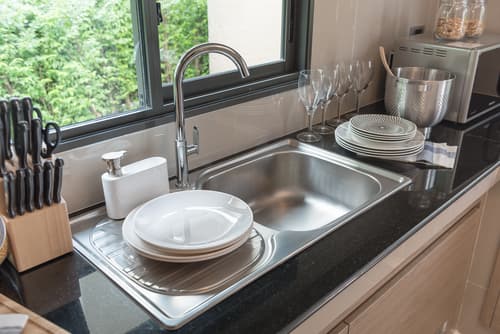 Drainboard
This kind of sink has a drainboard attached on one side. It's usually on the smaller side, so it's great for compact kitchen spaces. On the other hand, you won't use the drainboard much if you mostly use a dishwasher.
Corner
You can put your counter corner to great use by fitting a sink in this spot. Some corner models may even have a useful drying area between the two basins. However, these sinks are seldom installed and difficult to come by.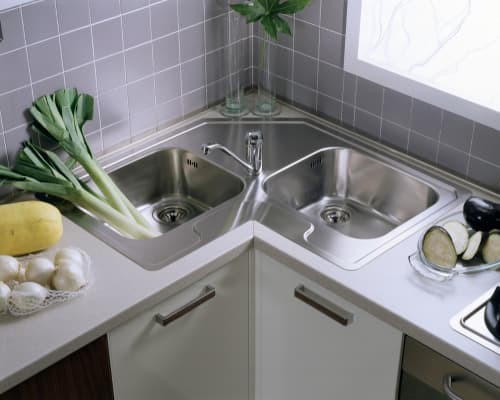 Prep
These sinks are small and typically used in addition to the main kitchen sink. If your family likes cooking together, a prep sink may come in handy. However, many homeowners have little use for it and find that it only takes up precious countertop space.
Which trusted OKC remodeling services perform quality kitchen remodels?
With the right kind of expert assistance, your kitchen remodel will be a smooth and enjoyable experience with a fantastic final outcome. The specialists at Ten Key Design Build have the expertise and resources to ensure that your kitchen overhaul turns out exactly the way you imagined. We'll supply you with quality kitchen countertop materials, go over various backsplash options with you and be your guide through the hottest kitchen lighting trends.
Our talented team will manage each phase of your home improvement project with precision and dedication whether it's a kitchen, bathroom, or whole-house renovation. With our knowledge of design and construction, tried-and-true methods, and dependable equipment, your home in Lincoln Terrace or another part of OKC will get a true makeover. Contact us today to arrange for a consultation – we're ready to get to work!