Have you ever wondered if your kitchen lacks a crucial component that would bring it to its full potential? There is a good chance that the answer is a kitchen island. As a highly sought-after feature, kitchen islands are gaining popularity for the numerous benefits they offer, from increased storage and workspace to enhanced aesthetics and functionality.
The good news is, there's an island to suit any size or type of kitchen. In case you're not sure which one to choose, make sure you contact a local kitchen remodeling contractor in Rose Creek for help.
Read on and discover how this versatile addition can transform your kitchen experience, making it more efficient and enjoyable than ever before!
Is an island a must in a kitchen?
Island upgrades are a top priority in most kitchen renovations, completely changing the way you use one of the busiest rooms in your home. The reason behind this is simple: A well-designed island can serve as a functional and stylish centerpiece, enhancing your kitchen's overall appeal and utility.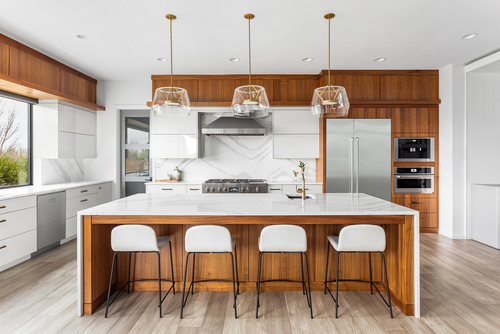 When you consider the added storage, workspace, seating options, and improved flow that an island offers, it's clear that this versatile feature can elevate your kitchen experience to new heights. By thoughtfully integrating it into your design, you'll create a more practical, comfortable, and visually striking space that brings joy and convenience to your daily life.
Why should I install a kitchen island?
There are nearly endless advantages to having an island in your kitchen. However, these are just a few reasons why it might be worth considering:
Additional storage & workspace
One of the primary reasons homeowners opt for a kitchen island is the extra storage and workspace it provides. An island can house additional cabinets and drawers, which can be a game-changer for those with limited kitchen storage. Furthermore, the countertop space can be used for meal preparation, making meal prep far more satisfying.
Flexible seating options
Island kitchens are often designed to accommodate seating, effectively creating a casual dining area or a cozy breakfast nook. This added area can be perfect for quick meals, entertaining guests, or just enjoying a cup of coffee while reading the morning news. By incorporating seating into your island, you create a multi-functional space that brings both comfort and convenience to your cooking space.
Enhanced kitchen flow
A well-planned kitchen island can improve the overall flow of your kitchen. It can serve as a natural dividing line between cooking and non-cooking zones, helping to keep your workspace organized and efficient. When designed with traffic flow in mind, a kitchen island can make it easier to navigate your space, making it more functional.
Visual appeal & main focal point
A kitchen island can be a stunning design feature, serving as the room's focal point. With a wide range of styles and materials to choose from, you can customize it to match your personal aesthetic, whether that's sleek and modern or rustic and cozy. Moreover, a thoughtfully designed island can add a touch of sophistication and luxury to any home.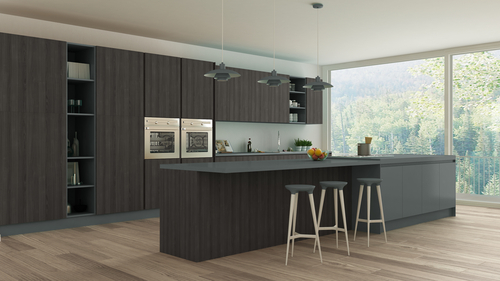 Increased home value
Installing a kitchen island can potentially increase your home's value. Many prospective homebuyers view custom kitchen islands as a desirable feature, and it may even be a deciding factor in their decision-making process. By adding an island to your kitchen, you can enhance both its functionality and appeal, making it an attractive investment.
Where can I find an experienced kitchen remodeling contractor in Rose Creek?
Not having enough space in your kitchen space? Wondering how to steer clear of mistakes when remodeling your kitchen, or need expert advice on all the benefits of an open-concept kitchen? No worries, Ten Key Home & Kitchen Remodels has you covered!The skilled and experienced specialists at our company always go the extra mile to satisfy your needs and ensure that every project runs smoothly from start to finish. We're at your disposal, no matter if you live near the Saline Courthouse Museum or anywhere else across the area. Get in touch with us today!