The heart of your home is where you prepare delicious meals and make memories. However, when this space is cramped, it can quickly become a source of frustration, making it difficult to move around and work efficiently. Rendering the area more spacious can not only improve its functionality, but also enhance its aesthetic appeal.
If you reach out to dependable builders to take care of your home in Rose Creek, you can ensure that your kitchen remodel meets your preferences and gives you exactly what you need. Keep reading to find out how you can create a more spacious kitchen.
How do you remodel a kitchen for more space?
Creating a space that's more open and inviting is easy with the help of useful tips and ideas. Have a look at some of them:
Optimize storage space
One of the biggest challenges in creating a spacious area is finding enough storage space for all your kitchen items. Fortunately, there are many creative solutions that can help you make the most of every inch of available space.
You can use vertical storage solutions, such as open shelves, pot racks, or hanging baskets. This will free up countertop and cabinet space and create a more open and airy feel.
Another option is to opt for pull-out pantry cabinets or drawers, which can be customized to fit your specific needs and offer easy access to all your pantry items.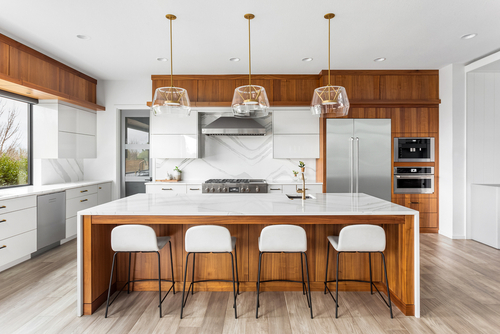 Choose light and bright colors
The color scheme you choose for your room can also have a big impact on how spacious it feels. Lighter colors, such as white, cream, or pale gray, can create the illusion of more space and reflect natural light, making the space feel brighter and more open.
If you want to add some color, consider incorporating it through accents, such as curtains, artwork, or decorative accessories. This will allow you to add personality without overwhelming the space.
Use reflective surfaces
In addition to light colors, reflective surfaces can also pay a significant role in rendering the heart of your home more spacious. Mirrored backsplashes, stainless steel appliances, or glossy cabinets can all reflect light and provide a feel of brightness.
Opt for multi-functional appliances
Another way to save space in your kitchen is to opt for multi-functional appliances. For example, a toaster oven can serve as a mini oven for small batches of food, while a slow cooker can double as a rice cooker or steamer. This way, you can free up counter space and create a more spacious feel.
Create a kitchen island
A kitchen island can be beneficial in many ways. It's a great way to add extra counter space and storage while also creating a more open and inviting feel. Choose a design that maximizes the available space and complements the rest of your kitchen. You can also use it as a gathering spot for guests or as a workspace for cooking and food prep.
Use lighting
Effective lighting can make a huge difference. Use a combination of natural and artificial lighting to create a bright and airy feel. You can install under-cabinet lighting to brighten up your countertops or use pendant lights or a chandelier to add a touch of elegance and create a more inviting atmosphere.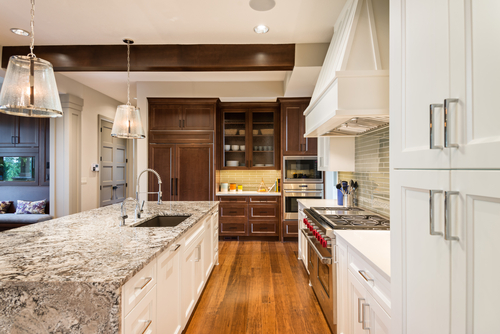 Which company in Rose Creek should I hire for a comprehensive kitchen remodel?
When you want to avoid making any mistakes during your kitchen remodel or you're wondering how you can benefit from an open-space kitchen, feel free to reach out to Ten Key Design Build. Our skilled and experienced specialists always go above and beyond to meet your needs and carry out every single project smoothly. Whether you need us around the National Cowboy & Western Heritage Museum or anywhere else across the area, we'll be right there to assist you. Call today!