Though it may not have as much of a practical value as the appliances or fixtures, your kitchen's color scheme truly matters. Few design elements can have such a profound effect on the end result of your kitchen remodel in Northern OKC. Color deeply affects your mood and brings other aspects of interior design into focus. It plays a crucial role in bringing your original vision to life.
Read on to find out how to choose the right color combination for your kitchen. You'll learn what colors go great together and how to match your cabinets to your tiles. With these expert tips, you'll find the sweet spot between playing it safe and going all out.
How do I choose a color scheme for my kitchen?
Color can make a world of difference. If done right, it can accentuate the best things about the overall design and create a uniquely beautiful atmosphere. If you don't pay much attention to it, your space may end up looking dull or over-the-top. Here are a few tips to try: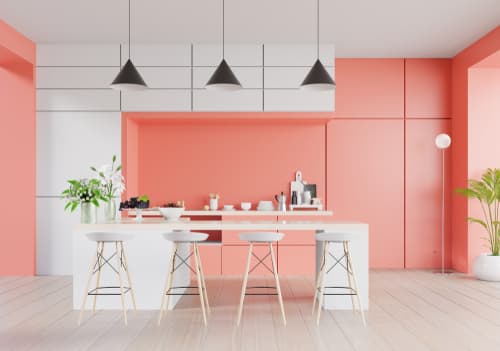 Consider the colors that pertain to your favorite style: Certain styles go hand in hand with certain color palettes. For example, minimalist kitchens are usually monochromatic and neutral. On the other hand, mid-century modern kitchens feature lively pastels. Think about how color plays into your preferred style.
Pick the cabinets carefully: Since they'll take up the biggest portion of your kitchen and cost the most, the choice of cabinets is one of your most important design decisions. Make sure that you love how the shades of the fronts, countertops, and hardware go together. This combination will set the tone for the rest of the kitchen.
Match appliances to the cabinets: With the color of your cabinets being the dominant one, your appliances will have to follow. You may want them to pop in a contrasting shade or you might opt for a uniform look. Matching them to the fixtures and hardware is a good idea too. For example, a stainless steel sink and faucet will go great with a cooktop made from the same material.
Think of the flooring and walls: Most popular wall colors are neutrals, like off-white and light gray. However, you could also make a bolder choice as long as it doesn't clash with your cabinets. Your floor and wall tiles have to coordinate with the other elements as well as each other. Some homeowners use the backsplash as the focal point and make it particularly vibrant and eye-catching. Others use similar tiles for both the floor and walls to create cohesion.
What colors go together in a kitchen?
Some popular color schemes that are in style right now are: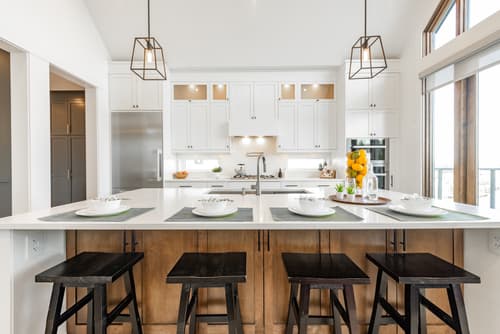 Navy and gold: In case you want your space to look regal and make a big impression, go for a mix of deep blue and shiny gold.
Black and white: This is a timeless classic that never fails. It offers striking contrast and makes the space feel dynamic and sophisticated.
White and pink: This is a dreamy, tender mix with an airy feel to it. If you like gentle, weightless interiors, this may be the thing for you.
Smoky green and brass: If you'd like your kitchen to feel fresh and cool, this subdued mix will definitely do the trick.
Should flooring be lighter or darker than cabinets?
There are no hard and fast rules here. It's all about what looks best in your particular situation. As long as you listen to your gut feeling and work with competent designers, you'll avoid typical kitchen design mistakes and get the solution you want.
How to find the best partners for my upcoming kitchen remodel in Northern OKC?
Here at Ten Key Design Build, you'll meet a qualified team of designers and builders who'll carry out your project with speed and precision. We can enhance the value and functionality of your small kitchen and help you arrive at the best kitchen layout. With our innovative mindset and quality workmanship, we'll successfully transform your home near the Oklahoma Museum of Art or elsewhere in the area. Give us a call!