Kitchen remodeling is one of the most rewarding home improvement projects you could do. Not only will it improve your overall satisfaction with your home, but it'll also make a big impact on its value in case you decide to sell. However, you'll only reap all the benefits of a quality kitchen remodel in Northern OKC if you avoid the common design mistakes homeowners make.
Learn how to make the right design choices and prevent costly and time-consuming repairs further down the line. If you know what to watch out for from the get-go, you'll have a better chance of getting the result you want.
What should you not forget when designing a kitchen?
Designing a kitchen is an exciting venture and many people get so caught up in the aesthetic side of things that they ignore the functional aspects. Here are a few things that may slip your mind, but shouldn't: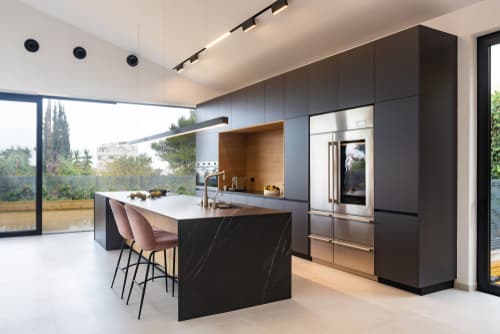 Considering the distance between the cooktop and the wall: If you don't leave at least an inch or two between the wall and your cooktop, you won't be able to use cookware with longer handles and you may have a harder time opening lids and cooking in general.
Measuring door clearance: Similarly, if you don't make sure that there's enough room for the drawers and doors to open fully, you'll have difficulty getting things out of your cabinets.
Not making room for the trash can: While it's not the most glamorous design aspect to think about, the trash can is a necessary kitchen staple. If you don't want to bend down every time you need to dispose of something, you can select modern built-in pull-out mechanisms that make everything a lot easier.
What should you not do when designing a kitchen?
Many people make these blunders and come to regret them later on: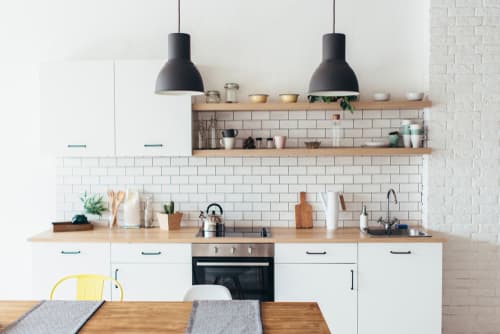 Ignoring the corners: Corners can be a kitchen's untapped potential. With modern storage systems, they can be used effectively. Your designers can help you find the most suitable solution for your needs.
Disregarding lighting: Lighting plays a huge role in the overall success of your kitchen design. Your countertops should be brightly lit so you can see clearly when you chop and mix ingredients. The rest of the kitchen can be more softly lit depending on your style.
Underestimating your storage needs: You may want to sacrifice storage space for something like a bare wall with a trendy decor piece, but this rarely works. Instead, work with your designer to maximize storage while integrating it with the aesthetics you like.
Not using vertical space: You need to use every single area available, especially if your kitchen is on the smaller side. Make sure your cabinets reach the ceiling and consider different shelving options to make the most out of the space at your disposal.
Going for trends at all costs: Wanting to have the latest trends in your remodeled space is perfectly understandable. However, insisting on certain things just because they're trending at the moment can produce an underwhelming result. For example, although kitchen islands have been reigning supreme for a while, if the configuration and size of your space don't allow for it, it's better to pick a different, more practical solution.
Who can perform a stunning kitchen remodel in Northern OKC?
Ten Key Design Build performs stylish and functional kitchen remodeling throughout Northern OKC and the nearby areas. We'll help you decide on the best color scheme for your new space and figure out the most practical layout for your kitchen. You can visit the Museum of Osteology or another local attraction while we're handling all the details of your project. Schedule your consultation to learn more!