A kitchen that allows you to work efficiently and have a good time is the dream of many homeowners. It's no surprise: after all, we use it several times a day and often for hours at a time. A streamlined, well-thought out kitchen layout is vital because your routine will become easier if you don't waste time searching for the items you need.
To create the perfect layout as part of your Northern OKC kitchen remodel, read on. You'll find out the basics of the kitchen triangle rule and how to apply it in your space. You'll also learn what the most common kitchen layouts look like and how to tell which one suits you best.
What are the 4 basic kitchen plan layouts?
Most kitchen designs fall under these four categories: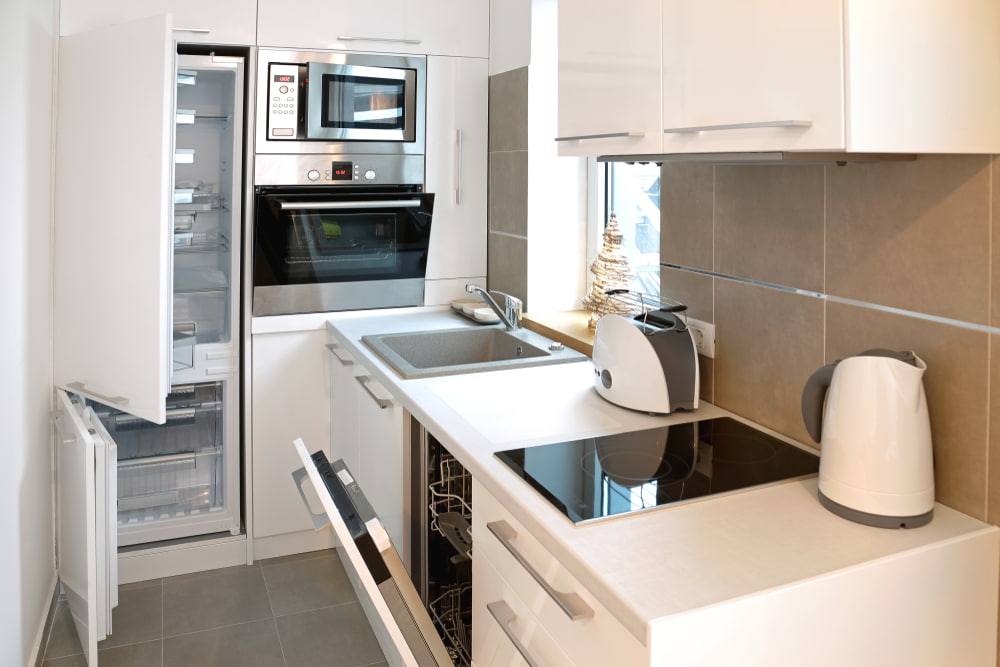 Galley layouts are narrow and long, with cabinets facing each other. They're typically used in smaller spaces where room is limited. They work best for compact kitchens and they're not ideal for homeowners that want their kitchen to be the main focal point of their home.
L-shaped layouts are best for medium-sized spaces where two adjoining walls are available for cabinet installation. They can be combined with an island in the center of your kitchen, which can be a useful addition of workbench space.
U-shaped layouts are typically found in large kitchens with cabinets taking up three adjacent walls. They provide the homeowner with plenty of functional work areas and cabinet space.
Open plans are ideal for people who want the kitchen to be the center of attention in their home. They offer an unrestricted flow between the kitchen and living space, which is perfect if you love cooking and entertaining guests at the same time.
What is the kitchen triangle rule?
The concept of the kitchen triangle means that the stove, refrigerator, and sink should form a triangle and each leg of the triangle should be four to nine feet long. This rule came to dominate the principles of kitchen design in the 20th century and it still holds true today. It allows for a streamlined traffic flow and makes cooking easier.
How do I determine my kitchen layout?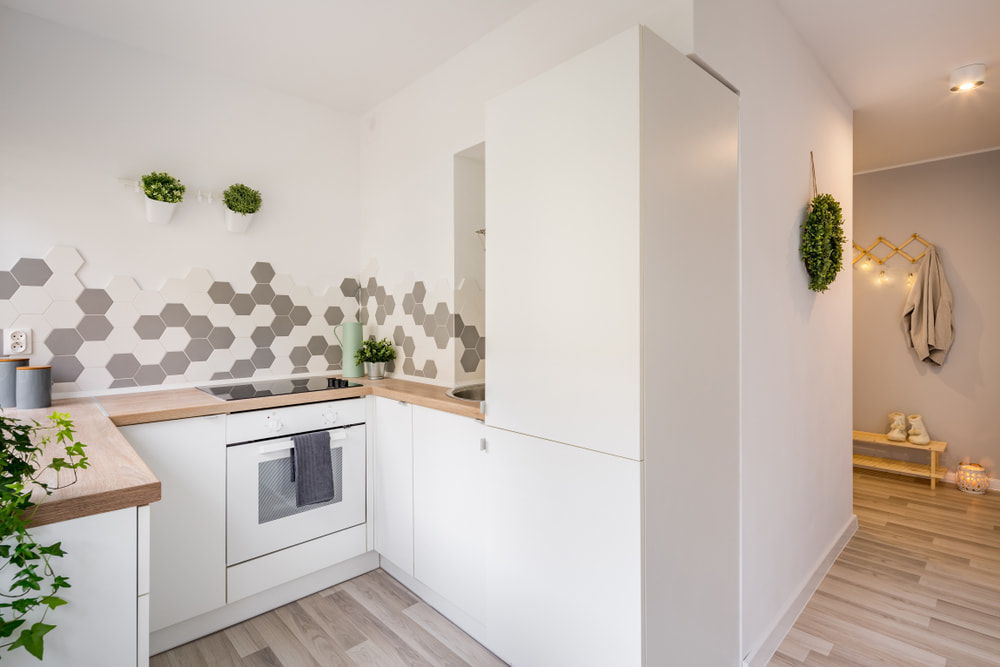 No two households are the same and what works for someone else may not work for you. Here are a few things to bear in mind when you're designing your kitchen layout:
Traffic flow: Analyze how you can achieve a streamlined traffic pattern in your particular space. This will largely depend on the existing size and space of the kitchen.
The location of electrical outlets: Kitchen appliances all need an electrical plug for power, so be sure that there are enough plugs. They also need to be safely installed and placed in suitable locations.
The placement of appliances: Your kitchen layout should be designed to seamlessly incorporate all of the appliances that you need, such as refrigerator, dishwasher, oven, and stove.
Storage: Your kitchen needs to accommodate the storage space you need for pots, pans, utensils and food items. Also, make sure you have suitable access to drawers, shelves, and cabinets so you can open them easily.
Which contractor in Northern OKC can perform a great kitchen remodel?
Here at Ten Key Design Build, our experts will create the kitchen of your dreams in a sleek design-build process. Our experienced designers will be at your disposal for guidance and planning of your beautiful, custom-made, energy-efficient kitchen. For example, we can suggest a color scheme that will perfectly complement your kitchen and make sure you make no mistakes in the kitchen design process. Let us take care of everything while you're enjoying your spare time at the Myriad Botanical Gardens. Take the design of your home in a new, exciting direction with us by your side!