How do you give your new kitchen that extra something to make it stand out? A great way to add character and poise to the space is with a carefully picked out backsplash. The selection process can be super fun and infinitely creative.
Read on for a handy breakdown of backsplash features. Learn how to find the backsplash design that works for you and blends in seamlessly with your cabinetry and appliances. Also, a full-service company specializing in kitchen remodels in OKC can be very helpful when it comes to making this and other choices for your remodel.
How do I choose a backsplash for my kitchen?
Whether you'd like it to take center stage or prefer a more toned down approach, a backsplash greatly contributes to the overall look and feel of the kitchen. Illuminated by stunning accent lights, it'll be both a point of visual interest and a highly functional aspect of your new space.
Take a look at the factors to consider when deciding on a backsplash design.
Material
Most homeowners choose either tile or stone. Tile is usually the preferred option because it's easy to install and maintain. There is also a wide variety of tile colors, shapes, and sizes available. Stone is trickier and more expensive to install because of its weight but it can create a sleek look if you tie it in with stone countertops.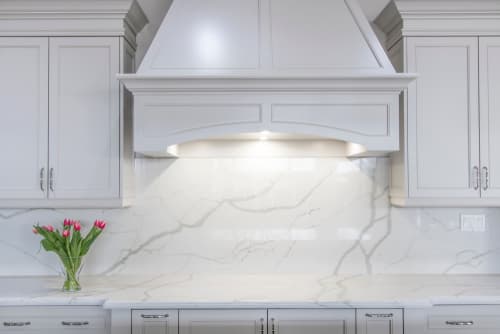 Color and pattern
While natural stone has its own organic veining patterns, tile comes in a huge selection of designs. You can choose the size, the finish, the shade, and the pattern – there's almost no limit to what you can get.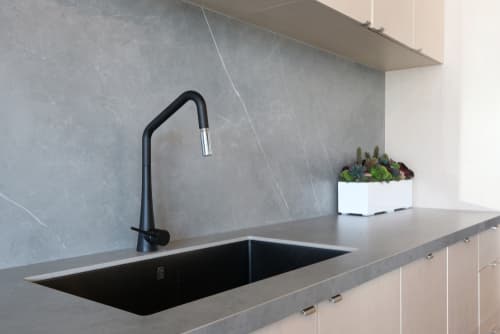 Style
Every type of backsplash works best with a certain interior design style. For example, marble will be right at home in a refined modern classic kitchen. Subway tiles fit perfectly with the light and airy Scandinavian design while small, geometric, colorful tile is ideal for a mid-century modern kitchen.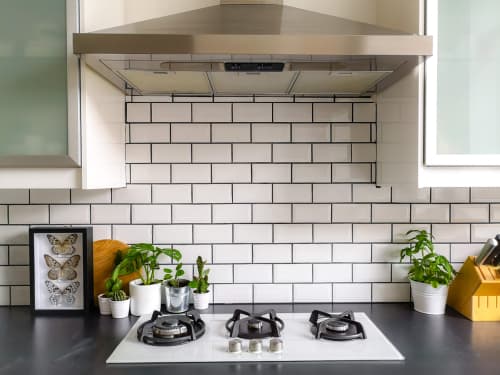 Orientation
With a stone backsplash, you get a sturdy, solid slab. With tile, you can pick whether it will be installed horizontally (a traditional choice), vertically (which has been gaining popularity lately), or even in an interesting herringbone pattern.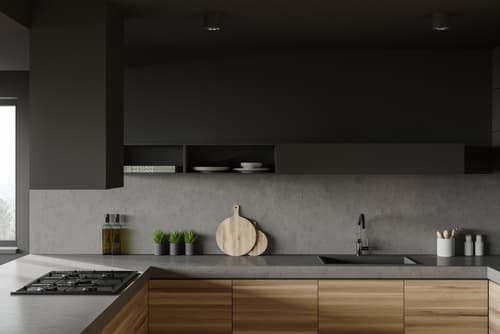 Grout
If you're having tile installed, it's important to also consider grout color. White grout makes for a unified look as it doesn't stand out from the surface of the tile. However, it gets dirtier sooner. On the other hand, colored grout pops out and creates unique dynamics, but it's not everybody's style.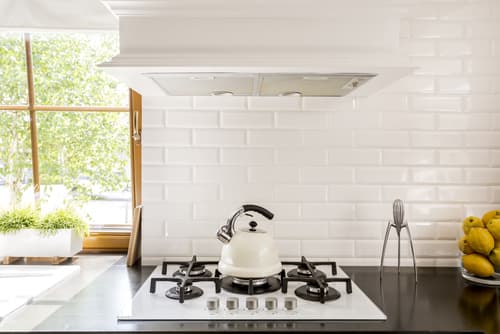 Should your backsplash match your countertop?
As these are adjacent elements of your kitchen design, it's always a good idea to tie in the backsplash with the countertop. They should complement both each other and other areas of the kitchen, like the floor or the cabinets.
Make sure that their styles, materials, and color palettes work together. For example, a backsplash featuring an intricate pattern and bright colors typically mixes well with a more subdued countertop design. Alternatively, you may want the countertops and cabinets to be the focal point. In this case, opt for a neutral backsplash. The key is in balancing out these elements so they don't fight for attention.
Who carries out the most stylish kitchen remodels in OKC?
Are you ready for your dream kitchen remodel? Ten Key Home & Kitchen Remodels has developed a system of streamlined, client-oriented remodeling services. Whether you live near Hefner Park or elsewhere in OKC, we're available for meticulous planning and efficient execution of your home improvement project.
Our expert remodelers will help you choose the sturdiest kitchen countertops, get the perfect kitchen sink, and work out other elements of the design. Our construction team will work in line with the highest quality standards while adhering to your project schedule.
Apart from kitchen overhauls, we're also available for other types of top-quality remodeling, including bathroom and whole-house remodels. Get in touch with us today to get the ball rolling. If you can think of it, we can do it!