While kitchen cabinets and other storage solutions are undoubtedly essential for functionality, their impact on a room's aesthetics is equally profound. Given that they're often at the center of kitchen design, it's no wonder they have a direct effect on how people feel when they enter the room. For this reason, it's imperative to choose them carefully, taking color, material, and size into consideration.
If you're not sure where to start, dive into 5 trending picks that might just spark your imagination for the upcoming kitchen remodel in Glen Eagles.
What is the current trend for kitchen storage?
The following storage trends can help you create a cooking area that works perfectly for you:
Open shelving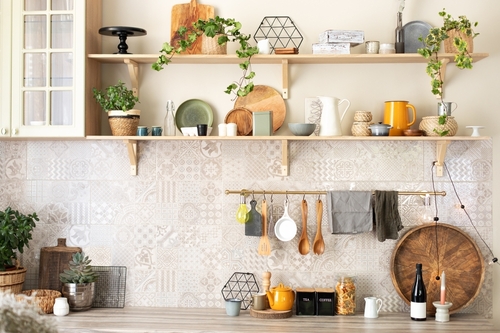 Nowadays, minimalism is gaining popularity in part because of the clean lines and simplicity it offers. With a few open shelves and some must-haves, opening up your kitchen is easy. And with the right placement, they can do more than serve a functional purpose; open shelves can also become a standout feature.
Plus, it just feels right to have everything easily accessible. When your favorite items are close by, it's not just convenient; it also streamlines your daily activities, letting you get things done more efficiently.
Shaker style cabinets
Shaker cabinet doors have this understated elegance that blends easily with any home decor. They're sometimes called "five-piece" cabinets because of their design – a four-part outer frame paired with a simple, flat center. It's this blend of simplicity and style that makes them so attractive. Initially crafted from hardwoods such as pine, birch, and maple, today, they've embraced a vibrant spectrum of colors, bringing a warm, inviting ambiance even to the most contemporary settings.
Slab style
When you picture a modern kitchen, slab cabinets are probably the first thing that comes to mind. They're designed using a single, solid panel, whether it's from wood, plywood, or medium-density fiberboard (MDF).
These cabinets come in a variety of finishes, from cool whites and grays to woodsy and lacquered shades. Also, you can jazz up their simple fronts with some striking hardware or go for no handles, if you prefer. If you want to stay up-to-date this year, this minimalist style might just be the way to go.
Two-toned design
You've probably heard the saying "opposites attract" a lot. Pairing contrasting elements creates an eye-catching balance. Among kitchen cabinet trends, this play of contrasts is gaining traction.
No matter how you decide to blend your cabinets or the shade of hardware you opt for, they'll bring elegance right into your home. And if you're hesitant about making a bold color choice – rest assured that a hint of contrast is all you need to bring some glam into your space.
Floating shelves
If you're thinking of adding a modern twist to your kitchen, floating shelves might be your answer. While traditional kitchen islands come packed with storage features like cabinets, drawers, and under-counter spaces, choosing an overhead floating shelf brings something different. It's a handy space and a lovely spot to show off your favorite things. In addition to decluttering your cooking area, you will improve its flow, all while infusing the space with a unique character and charm.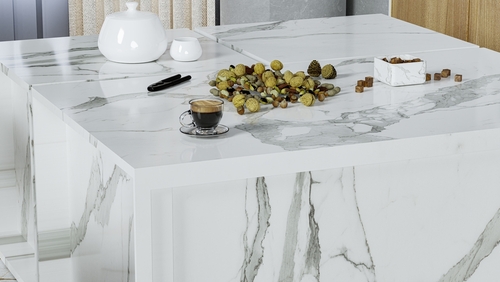 Are you looking for an expert kitchen remodel in Glen Eagles?
Whether you're pondering ways to enhance your kitchen's functionality, seeking must-have features for a modern kitchen, or contemplating essential updates to boost your home's resale value, our seasoned team at Ten Key Home & Kitchen Remodels is at your service.
As a locally-operated company, you can count on us for a wide range of services, no matter if you live near Martin Park Nature Center or elsewhere in the area. Get in touch with us and we'll be happy to answer all your questions!