If you are on the search for a new kitchen floor, you may be wondering what the best options are and how to decide on the right ones. There are a few popular tiles that are often chosen for cooking areas that may be exactly what you're looking for.
Read on to get the answers you need, feel inspired, and take the first step on the path to the kitchen remodel of your dreams in Edmond, OK.
What size tile is best for the kitchen floor?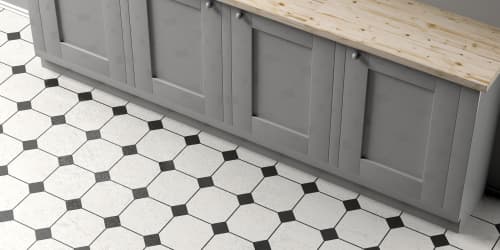 Size is an important consideration when choosing both floor tiles and cabinets. The right size tile will depend on the style of your home, your preference, as well as your budget.
Typically, tiles range between 8 and 12 inches, though some people like to go for 18 inches or more. The most popular ones are those of 12 inches as they work best with most kitchens.
Your kitchen size also plays a role in making the right decision. If you prefer small tiles and have a large kitchen, you may not like how they go together. Other parts of the kitchen should match the tiles so that everything looks proportional. For example, consider whether you have a kitchen island and how big it is.
What are some popular kitchen tiles?
Kitchen floor tiles come in a variety of materials, colors, and sizes. There are some that never go out of style, mostly for aesthetic reasons, but also due to durability and comfort.
Here are some of the popular tiles you may want to pick for your kitchen:
Porcelain vs. Ceramic
Both porcelain and ceramic tiles are clay-based and kiln-fired, but that is where their similarities end. Porcelain is technically a specialized subtype of ceramic due to its clay-based construction. However, porcelain is made of finer clay and fired at a higher temperature, which makes it denser than ceramic.
This density means that it is more durable and less likely to be damaged by everyday wear and tear. Compared to ceramic with its more porous structure and an absorption rate of 3% to 7%, porcelain is practically impervious to water damage.
Ceramic tile is lighter which can make it less expensive, easier to cut, more flexible for intricate designs, and often has a more textured surface. Compared to other flooring, both ceramic and porcelain tile are a more durable choice for wet or high traffic areas and homes with pets and kids.
It's no wonder both tiles are favorites because they are extremely durable and inexpensive. If you're going for longevity though, porcelain is the better choice.
Wood look tiles
If you love hardwood but don't want to worry about water damage in your kitchen, then a wood look tile might be for you. Scratch-resistant, stain-resistant, and water-resistant—wood look tile has the benefits of wood with none of the drawbacks.
These tiles come in various plank lengths and widths to mimic hardwood. Perfect for everything from farmhouse to a Scandinavian style kitchen, add some warmth and texture to your home with a wood look tile. If you love farmhouse and rustic kitchens, wood is a popular pick. Also, if you have an open-floor plan with wooden floors, it may be the easiest to keep the same style in the kitchen area as well.
Patterned tiles
A great way to add flair to a space, patterned tile is the perfect choice to make sure your home reflects your personality. Patterns range from classic, modern, rustic, and everything in between. Add a little Art Deco to your home or keep it airy and timeless with French Country—the options are endless.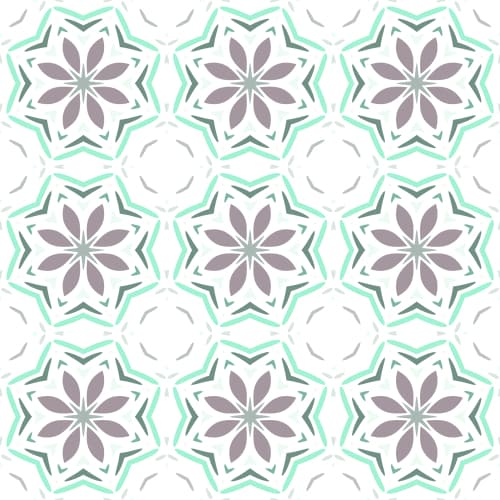 Do you need to tile the kitchen floor?
Installing a tile floor in your kitchen is definitely a smart idea. This way, you'll have fewer things to worry about around the house and enjoy a nice design when you enter the kitchen.
Firstly, kitchen tiles should be heat- and moisture-resistant, which makes your floor all the more durable. Also, in the long run, compared to other flooring options, tiles are usually less expensive.
Ready to start planning your kitchen remodel in Edmond, OK?
If you've got your heart set on certain tiles or have different options saved on your Pinterest page, it's time to act and give your kitchen a fresh new look. By hiring a trustworthy contractor at Ten Key Home & Kitchen Remodels, you get a consultation that will help you narrow down your tile options and choose what works for your kitchen.
From building kitchen cabinets to positioning appliances in the best way, there's nothing our experienced flooring installers and tile setters won't be able to do for you. Feel free to reach out to us to find out more about how we operate. Once we start working on your dream kitchen, you can enjoy yourself at the Pelican Bay Aquatic Center or Mitch Park.