Kitchen islands are one of the most popular features in modern kitchens, and for good reason. They provide a lot of extra counter space, add extra storage to your kitchen, and can even be used as a breakfast bar or dining table. But with so many different types, sizes, and shapes of kitchen islands available on the market today, it can be difficult to know which one is right for your cooking space.
Read on to explore kitchen islands so that you can decide on the best one for your needs and preferences. When you're ready to install one, we'll gladly assist you with expert kitchen remodeling in Edmond, OK. 
What are some considerations when installing a kitchen island?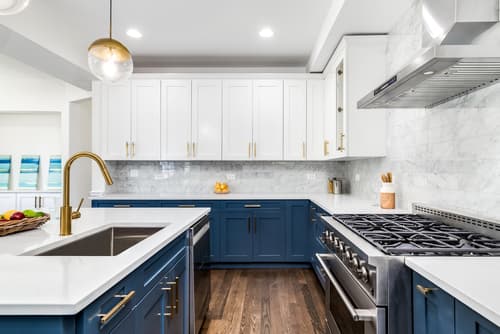 Kitchen remodeling is so much more than installing kitchen cabinets and tiles to go with them. Choosing other elements, such as the perfect kitchen island, is just as important. Here are a few things you will need to consider before starting your project:
Technical details
If you want a multipurpose kitchen island, there are different technical considerations you need to be aware of. Will you install a sink or a stove, for example? You should figure out whether you'll need to run gas, water, or electric lines to your island. Perhaps you'd like to have small appliances at hand. You may also have to take vents and lighting into consideration.
Location, location, location
A kitchen island can be a great addition, but you need to place it in the right spot if you want to get the most out of it. If you have a small cooking space, the middle of the room is the obvious choice. However, there are also other options depending on the layout of the space.
You can put your island close to or against the wall to create more space. You can also rotate it to avoid going around it a lot when you need something from the refrigerator or a cabinet. Consider your cooking and dining routine and think about creating the kitchen work triangle. This will help you decide where exactly to put your island.
Size and shape
Kitchen islands come in all shapes and sizes, and you can find one to fit any kitchen. What you need to think about is the size and shape of your space.
The standard size for an island is around 36 inches wide by 72 inches long. This should work for most spaces, but you may want a larger one if your kitchen is particularly spacious.
Another thing to consider is the shape:
Rectangular: The classic kitchen island you can then customize with different storage and countertop options
L-shaped: Perfect for when you need some extra space to move around, while still getting enough countertop space
U-shaped: This shape may be perfect for when you feel inspired to cook a complicated meal and want to have all the necessary ingredients and dishes around you
Curved or circular: If you want to stand out and have the space and style for it, this shape may be for you
Kitchen island type
There are two main types of kitchen islands you can go for:
Mobile or portable: This unit is very versatile. You can move it around depending on what you want and what space you need. It can be a workspace when it's closer to the stove or a dinner table when it's in the middle. It offers a lot of flexibility in terms of style, storage, and functionality.
Standard: You can also install a regular, non-portable unit. If you prefer a traditional, classic look that can still offer plenty of space and functionality, this type is for you.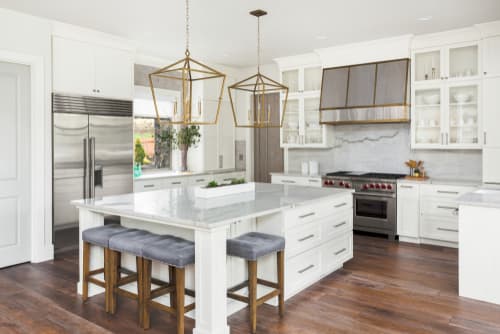 Who can you hire for stylish kitchen remodeling in Edmond, OK?
Are you ready to take your cooking space to the next level? Ten Key Home & Kitchen Remodels can help you transform your kitchen and get everything you've ever wanted from the heart of the home. You can schedule a consultation with our trustworthy and skilled contractors and plan out your project in detail. Our team is known for their dedication, attention to detail, and innovative perspective.
We'll promptly get to work while you can spend the day at Edmond Historical Society and Museum. Feel free to give us a call today!