When it comes to kitchen design, one of the most important decisions you'll make is where to place your appliances. If you get it wrong, you could be dealing with a lot of headaches down the road. But if you get it right, your cooking space will run like a well-oiled machine. So how do you go about making this decision? Read on to explore your options.
Once you know what you want, our experienced kitchen remodel contractors in Edmond, OK, will help you every step of the way.
What should you consider first?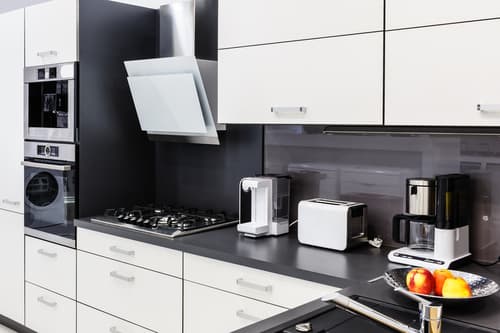 Whether you're setting up your kitchen from scratch or remodeling it, it's all about the placement of your appliances, no matter if they're big or small. It's not so much about feng shui as it is about functionality.
Here are some things to consider when arranging your kitchen appliances:
Start by drawing up a floor plan. This will help you visualize the space and determine what kind of layout will work best for your needs.
Consider the traffic flow in your kitchen. You want to ensure that there is plenty of room for people to move around without running into each other.
Pay attention to your workflow. Make sure the appliances you choose are easy to access and use for when you need them.
Think about how much storage space you need. You don't want to be cramped up in your own kitchen, so make use of your kitchen cabinets.
Don't forget about aesthetics. You want your kitchen to look good too, after all!
Top 4 tips for arranging your kitchen appliances
1. The kitchen triangle
You may want to follow the kitchen triangle rule to achieve the optimal arrangement of your appliances. The rule states that the sink, the stove, and the fridge should create a triangle, thus outlining the perfect layout for any type of kitchen task.
When it comes to the exact measurements, it depends on the size of the room. However, typically, each leg of the triangle should be between 4ft and 5ft long. With this arrangement, your cooking and clean-up process should be easy and practical.
2. Other big appliances
You should also consider other big appliances so that their location makes sense with the three main parts of the kitchen (the stove, the refrigerator, and the sink). If you have a dishwasher, make sure it's placed next to or close to the sink so that you don't have to carry dirty and dripping dishes across the room. If you have another oven, a microwave, or similar, consider placing them near the fridge to simplify your food prep.
3. Small appliances
When it comes to small appliances, such as a coffee machine, toaster, or mixer, you can place them on your kitchen island (or inside it if you have any storage space), countertops, or in kitchen cabinets. This depends on whether you want to display the appliances and easily reach for them or go for a cleaner look and hide them away.
However, with appliances that you use daily, such as the coffee maker, you may want to have it out and ready so you don't have to do much work before your morning coffee.
4. Make room for everything
Even if you figure out the perfect arrangement of all your appliances, you need to make sure there's enough space to use them. This may include having enough room to open the refrigerator door, the dishwasher, or the oven.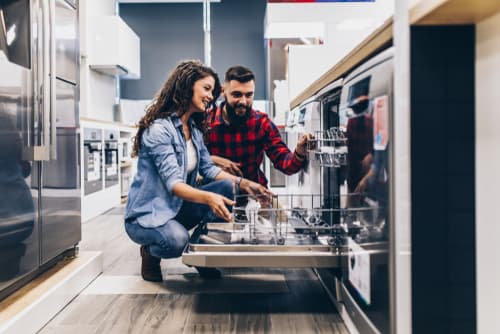 Let expert kitchen remodel contractors in Edmond, OK, handle your kitchen layout
The dedicated team at Ten Key Home & Kitchen Remodels can help you create the perfect arrangement for your appliances, pick the best kitchen floor tiles, remodel your entire cooking space, and so much more. If you go with our expertise-based services, not only will you get cutting-edge appliances, but you'll also maximize the use of your kitchen with a stylish and functional layout.
Let us help you improve your home in Edmond, OK, or the nearby area by creating the kitchen of your dreams!