When revamping your kitchen, the cabinets are often one of the first places you start. And for good reason—they take up a lot of space and can be a major focal point in the room. But before you go shopping for new ones, it's important to assess your needs and decide what style will best suit your kitchen.
Read on to explore various types of cabinets and give your home in Edmond the kitchen remodel of your dreams!
How do I choose the best kitchen cabinets?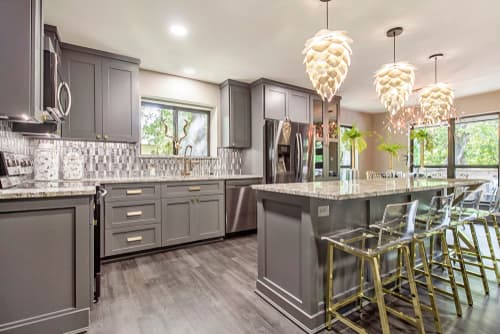 To choose the right cabinets for your kitchen, you need to consider a number of aspects. Usually, the most important ones are functionality and likeability. For example, it's essential to take into consideration how you'll position your appliances so that everything looks and works properly. Also, do the cabinets match your trendy new kitchen floor?
Let's explore all the factors so you can make an informed decision and marvel at how perfect your kitchen looks.
Size of your kitchen
When choosing new kitchen cabinets, it's important to consider the size of your kitchen. Make sure to measure the height, width, and depth of the space to find cabinets that will fit perfectly. Choosing the right size cabinets will make your kitchen look and feel more spacious.
Kitchen style
Before you start browsing cabinets, you need to identify your kitchen's style. Perhaps you have a classic white and marble kitchen or you are more into other vibes, such as:
Whatever the style may be, you should think about whether you want the cabinets to match it or bring a new flavor to the room by standing out in some way.
Type of cabinet
Depending on your kitchen size and the style you go for, you'll need to choose the right type of cabinet. You may go for one of the following:
Standard-base cabinets (typically 24" deep and 34.5" tall)
Tall pantry-style cabinets (usually 84" to 96" tall)
Wall cabinets (can be custom or standard, around 18" tall)
Special units (hutches, corner cabinets, bottle racks, etc.)
We can also look at cabinet types in regard to their style—standard, frameless, distressed, panel-front, beadboard, etc.
Another detail to take into consideration is the material. There are different types of wood you can consider and decide whether you want your cabinets to have glass doors, for example.
Color of the cabinets
You may want your cabinets to blend in with the rest of the kitchen, so you'll choose the same or matching color. If you want to play around and have a little pop of color, perhaps you could choose a color you normally wouldn't.
Your budget
One of the most important things to take into consideration is your budget. While the cost of cabinets will vary depending on the style and materials you choose, your remodel could turn out to be pricey, especially if you don't hire adequate help.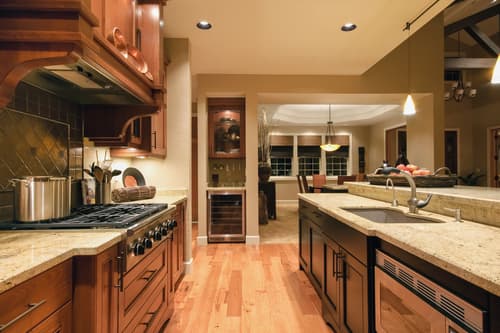 Give your home in Edmond the kitchen remodel it deserves!
Once you've figured out what your new kitchen will look like (or even if you're still not sure), it's important to hire a professional contractor who can bring your vision to life. Having a contractor you can trust is especially important if you want unique and custom kitchen cabinets.
For all your kitchen remodel needs, you can count on Ten Key Home & Kitchen Remodels. We offer a consultation with our team of experts who will help you plan your renovation. Anything you envision, Armadi by Ten Key will create.
After designing and finalizing the plan with your wishes in mind, we are sure you'll be more than satisfied with how everything turned out.
Contact us today, have some me-time at Arcadia Lake, and we'll do all the work!